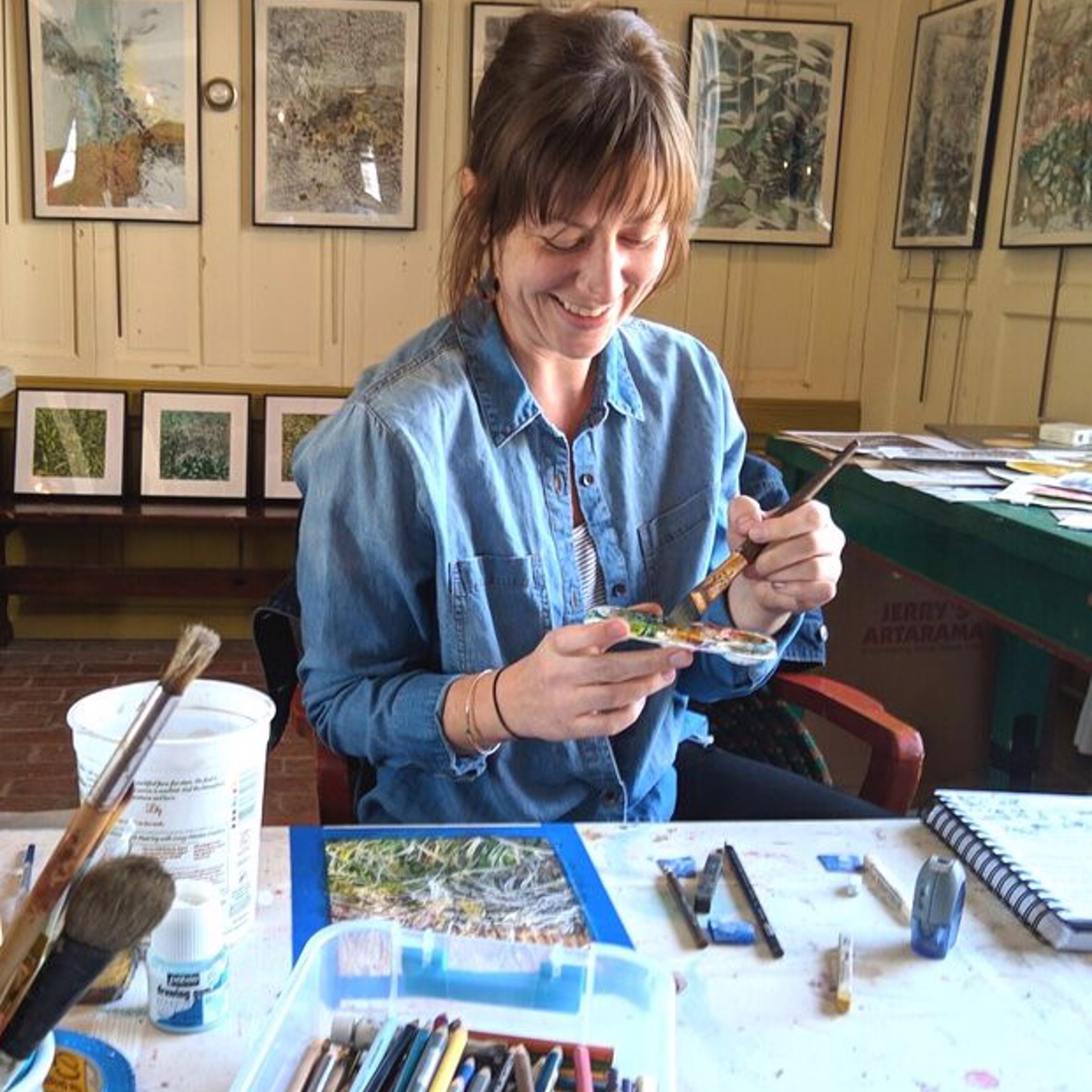 "It was tall grass that made man stand up; to be on all fours, to crouch in a six-foot-high world of thick cellulose, is to be blind and vulnerable.
People may prefer the obvious beauty of mountains and seacoasts, but we are bipedal because of savannah; we are human because of tallgrass."
- William Least Heat-Moon PrairyErth
Kansas is my adopted home, but I've lived most of my life in places that should be prairie. My work is rooted in the tallgrass prairie and re-presenting it through an ever-growing library of lived experience, resisting static views of specific places. Vast and sometimes monotonous, the prairie doesn't give up its charms on first glance, but rewards the patient wanderer. The prairie ecosystem compels me not because it is picturesque, but because of its resiliency alongside our human timeline.
I recreate what I experience of the tallgrass prairie through richly layered mixed media drawings. I find a symbiosis of place and process: Drawing means freedom to embrace a transparent process and accept an imperfect history, while prairie is the perennial expression of life and death laid across the earth. I also find place-based drawing to be a practice of hopefulness, experimentation and forward thinking; weaving together the known and the unknown. The best is always yet to come.
Kelly Yarbrough is based in Manhattan, Kansas, and works within an ecosystem of mixed media drawing, arts administration, and community program development directly inspired by the native tallgrass prairie. Kelly holds an MFA from Kansas State University, and founded the Tallgrass Artist Residency in 2016 (now a partner program of the Kansas Creative Arts Industries Commission). She has developed many relationships with Art and Ecology partners through her work and service leadership roles in Kansas and beyond. Kelly is represented by Prairiebrooke Gallery in Overland Park, Kansas.
Read More